OUR TEAM OF EXPERTS
Over 25 years experience!
Meet the founders, John McKenzie and Chaela Sumner (waves).
"I thought you said you were website and computer consultants?"
We are! But, we're proud to serve our community as volunteer EMTS and firefighters (John is a firefighter and fire investigator). And, we're old hats in the computer consulting business. With over 25 years each in website design and computer consulting, we've kept up with the ever-rapidly changing trends this industry thrives on.
In business since the 90s, Sumner McKenzie, Inc. offers a wide array of design and development services, from simple to complex. We'll build a customized look and feel for your site, and add features as needed. Want a full shopping cart? We can build it. Need membership join and view pages? We're your team. Need an events app? We can do it. Need a calendar app? Give us a call. Need low cost Facebook advertising to sell your product? We're experts in Facebook ads.
You get to be the boss of what you do and we get to use our expertise to help you shine.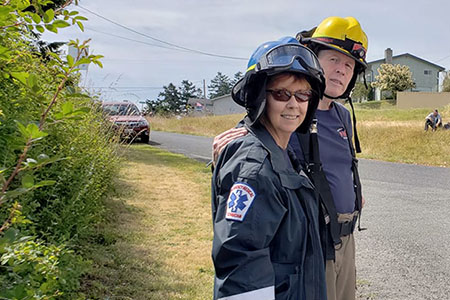 President, Chaela Sumner:
I've been a galleried artist and all around creative. I cut my website teeth at Microsoft, where I was the Number One designer in the country, for two years running in the Sidewalk project, way back when. I've gone on to work with clients large and small, including Charles Schwab and Altoweb. I've designed hundreds of successful websites, as well as brochures, business cards, album covers and magazine covers.
Vice-President, John McKenzie:
With a background in global, highly successful conference planning, John likes to think big when approaching your business. Whether it's a customized shopping cart, a fully functional database membership site, or a page displaying your upcoming events, John tackles the back end of your web site making it function in ways that streamline your work flow. John keeps his skills updated to reflect current trends and save you money. Ask him about the kinds of Web Apps he can build. He'll then go on to explain how you can use technology to easily display 100s of members, thousands of conference talks, or whatever your heart desires.